Beginner/ Level 1
This class is taught by: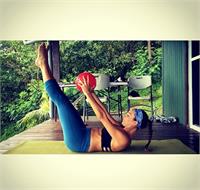 Gina is a Certified STOTT PILATES® Instructor (mat work, equipment, and ISP (injuries and special populations). She completed her training at Pilates Training Center Hawaii. Gina was raised on the island of Kauai. She is an avid equestrian rider, and a fitness enthusiast. With her athletic background, and experience in fitness, health and wellness, she aims to share her passions and the benefits of Pilates with others. Gina inspires others to build strength and endurance, improve posture, prevent injuries, and to maintain active and healthy lifestyles.
Get an introduction to Pilates using the equipment, or fine tune your form in this Pilates foundations class. Hands-on adjustments for form and correct technique, allow for precision and flow of movement in this class. The class utilizes mat work and apparatus (including Reformer, Wunda Chair, Cadillac, Ladder Barrel and Spine Corrector.
Upcoming classes:
Thu

Sep 28 11:00 am - 11:55 am

with

Gina

Vogel




Thu

Oct 05 11:00 am - 11:55 am

with

Gina

Vogel




Thu

Oct 12 11:00 am - 11:55 am

with

Gina

Vogel




Thu

Oct 19 11:00 am - 11:55 am

with

Gina

Vogel




Thu

Oct 26 11:00 am - 11:55 am

with

Gina

Vogel




Thu

Nov 02 11:00 am - 11:55 am

with

Gina

Vogel