Happy Hour / Mixed Level
This class is taught by: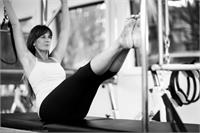 Nicki Brewer began practicing Pilates in 2004, while attending the University of San Diego. After graduating with a Business Degree from USD and working in the Action Sports industry for several years, she elected to enroll in the BASI Pilates® Teacher Training Course as a way to combine her Marketing experience and education with her new love for Pilates—the goal became learning to spread the word about Pilates.
After my first class I remember leaving, feeling energized, lengthened, and far more aware of my posture and body. I loved it! But what really hooked me was seeing that Pilates was helping me do all of the things I love (riding bikes, running, playing volleyball, being active and OUTSIDE whenever the sun is shining) by helping to avoid injuries, improving my core strength and balance, and constantly challenging different muscles.
* Certified in 2010, BASI® (Body Arts and Science international)
* Pre & Post Natal Certification, BASI
Come for the Pilates, stay for the champagne. Or vice versa, we're not judging.
The 55-minute, mixed level class combines strength, flexibility and functional movement, followed by champagne or mocktail social hour (completely optional).
Upcoming classes:
Tue

Sep 26 5:30 pm - 6:25 pm

with

Nicki

Brewer




Tue

Oct 03 5:30 pm - 6:25 pm

with

Nicki

Brewer




Tue

Oct 10 5:30 pm - 6:25 pm

with

Nicki

Brewer




Tue

Oct 17 5:30 pm - 6:25 pm

with

Nicki

Brewer




Tue

Oct 24 5:30 pm - 6:25 pm

with

Nicki

Brewer




Tue

Oct 31 5:30 pm - 6:25 pm

with

Nicki

Brewer




Tue

Nov 07 5:30 pm - 6:25 pm

with

Nicki

Brewer




Tue

Nov 14 5:30 pm - 6:25 pm

with

Nicki

Brewer




Tue

Nov 21 5:30 pm - 6:25 pm

with

Nicki

Brewer




Tue

Nov 28 5:30 pm - 6:25 pm

with

Nicki

Brewer




Tue

Dec 05 5:30 pm - 6:25 pm

with

Nicki

Brewer




Tue

Dec 12 5:30 pm - 6:25 pm

with

Nicki

Brewer




Tue

Dec 19 5:30 pm - 6:25 pm

with

Nicki

Brewer




Tue

Dec 26 5:30 pm - 6:25 pm

with

Nicki

Brewer




Tue

Jan 02 5:30 pm - 6:25 pm

with

Nicki

Brewer




Tue

Jan 09 5:30 pm - 6:25 pm

with

Nicki

Brewer




Tue

Jan 16 5:30 pm - 6:25 pm

with

Nicki

Brewer




Tue

Jan 23 5:30 pm - 6:25 pm

with

Nicki

Brewer