Circuit Class / Mixed Level
This class is taught by: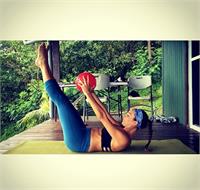 Gina is a Certified STOTT PILATES® Instructor (mat work, equipment, and ISP (injuries and special populations). She completed her training at Pilates Training Center Hawaii. Gina was raised on the island of Kauai. She is an avid equestrian rider, and a fitness enthusiast. With her athletic background, and experience in fitness, health and wellness, she aims to share her passions and the benefits of Pilates with others. Gina inspires others to build strength and endurance, improve posture, prevent injuries, and to maintain active and healthy lifestyles.
Energize your morning with a fast-paced, mixed-equipment class.
The 55-minute, mixed level class takes your practice to the Reformer, Wunda Chair, mat, Cadillac and Ladder Barrel, all in one session. Programmed with an Athletic approach to conditioning the body, the class places a focus on core fundamentals, strengthening specific muscle groups & joints, and building a strong foundation based on mind/body awareness and the 5 basic principals of Pilates: breathing, pelvic placement, shoulder stabilization, rib cage, and cervical spine alignment.
Due to the circuit format we require each student to have a minimum of 3-6 month of experience with Pilates on the equipment before enrolling in this group class.
Upcoming classes:
Tue

Nov 28 10:00 am - 10:55 am

with

Gina

Vogel




Tue

Dec 05 10:00 am - 10:55 am

with

Gina

Vogel




Tue

Dec 12 10:00 am - 10:55 am

with

Gina

Vogel




Tue

Dec 19 10:00 am - 10:55 am

with

Gina

Vogel




Tue

Dec 26 10:00 am - 10:55 am

with

Gina

Vogel




Tue

Jan 02 10:00 am - 10:55 am

with

Kari

Copeland




Tue

Jan 09 10:00 am - 10:55 am

with

Gina

Vogel




Tue

Jan 16 10:00 am - 10:55 am

with

Gina

Vogel




Tue

Jan 23 10:00 am - 10:55 am

with

Gina

Vogel




Tue

Jan 30 10:00 am - 10:55 am

with

Gina

Vogel




Tue

Feb 06 10:00 am - 10:55 am

with

Gina

Vogel




Tue

Feb 13 10:00 am - 10:55 am

with

Gina

Vogel




Tue

Feb 20 10:00 am - 10:55 am

with

Gina

Vogel




Tue

Feb 27 10:00 am - 10:55 am

with

Gina

Vogel




Tue

Mar 06 10:00 am - 10:55 am

with

Gina

Vogel




Tue

Mar 13 10:00 am - 10:55 am

with

Gina

Vogel




Tue

Mar 20 10:00 am - 10:55 am

with

Gina

Vogel