Advanced / Level 3
This class is taught by: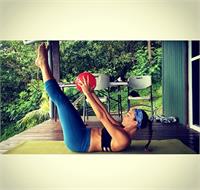 Gina is a Certified STOTT PILATES® Instructor (mat work, equipment, and ISP (injuries and special populations). She completed her training at Pilates Training Center Hawaii. Gina was raised on the island of Kauai. She is an avid equestrian rider, and a fitness enthusiast. With her athletic background, and experience in fitness, health and wellness, she aims to share her passions and the benefits of Pilates with others. Gina inspires others to build strength and endurance, improve posture, prevent injuries, and to maintain active and healthy lifestyles.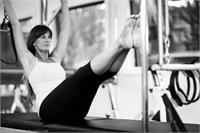 Nicki Brewer began practicing Pilates in 2004, while attending the University of San Diego. After graduating with a Business Degree from USD and working in the Action Sports industry for several years, she elected to enroll in the BASI Pilates® Teacher Training Course as a way to combine her Marketing experience and education with her new love for Pilates—the goal became learning to spread the word about Pilates.
After my first class I remember leaving, feeling energized, lengthened, and far more aware of my posture and body. I loved it! But what really hooked me was seeing that Pilates was helping me do all of the things I love (riding bikes, running, playing volleyball, being active and OUTSIDE whenever the sun is shining) by helping to avoid injuries, improving my core strength and balance, and constantly challenging different muscles.
* Certified in 2010, BASI® (Body Arts and Science international)
* Pre & Post Natal Certification, BASI
Advanced Level 3 Equipment Class. Get ready for a hardcore, full body Pilates equipment class. Using the fundamentals of Pilates, challenge your mind and body in this continuous flow class. The Class utilizes Mat work and apparatus (including Reformer, Wunda Chair, Cadillac, Ladder Barrel and Spine Corrector.) Experience with the equipment and at least 1 year of Pilates experience is required to attend this class.
Upcoming classes:
Fri

Nov 24 11:00 am - 11:55 am

with

Gina

Vogel




Fri

Dec 01 11:00 am - 11:55 am

with

Nicki

Brewer