Laurie Antonellis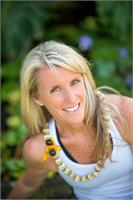 Laurie has been a certified Pilates instructor since 1998. She trained at the Physical Mind Institute in Santa Fe, New Mexico, the largest organization for certification, membership and materials of the Pilates Method. Laurie learned the mechanics of movement when she studied dance in New York and Boston. She acquired the gift of instruction as a certified personal fitness trainer and aerobics instructor. And she gained intimate knowledge of the body's muscular and skeletal system as a certified massage therapist. All these experiences blend to give Laurie a special gift as a Pilates trainer. Her instruction is clear and she as an eye for correct and incorrect movement. Laurie trains her students with encouragement and inspiration.
Laurie Antonellis instructs the following:
Take your practice to the next level with this beginner/ intermediate level class. Dynamic progressions allow each student to work at their own level, whether you are working on your foundations or looking for a new challenge. Hands-on adjustments for form and correct technique, allow for precision and flow of movement in this class. The class utilizes mat work and apparatus (including Reformer, Wunda Chair )

Experience Pilates on the equipment is required to attend this class.